Toxin reduction tips and tools
Water – Be sure the number of ounces of water you drink per day is equal to at least half of your body weight. (i.e. 150 lbs. body weight = 75 oz. water per day). In the autumn and winter, it can be especially helpful and detoxifying to drink warm water.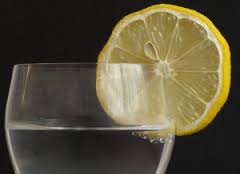 Lemon Water – This is a gentle yet effective way to support and detox the liver, kidneys, and colon, and help alkalize the body. It assists in breaking up mucus and provides energy via enzymes, vitamin C, potassium, and trace minerals. Please use fresh, ripe lemons, not prepared lemon juice. Make lemon water simply by squeezing the juice of 1⁄2 a lemon into a glass of water.
Body Brushing – This is one of best ways to stimulate the lymphatic system. This is beneficial because it assists the lymph nodes in keeping blood and other vital tissues detoxified. It is energizing, assists in breaking up cellulite, removes dead skin, stimulates circulation, and strengthens the immune system. To do this, you will need a natural bristle brush, which can be purchased at most health food stores or pharmacies. Start at your feet and work up the body in long strokes towards your heart. Be sure to cover the whole body, but skip the face and the breasts. Do not feel like you need to spend a tremendous amount of time on this, 2–3 minutes prior to your shower is fine.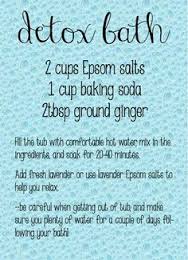 Toxin Elimination Bath – Each evening, place 2 cups of Epsom salts and one cup of baking soda in the tub, run the hottest water you can stand, and add 8 drops lavender oil. Soak for 20 minutes and allow yourself to sweat. When you are finished bathing, wrap yourself up in towels, go under the covers, and sweat some more. You should feel very relaxed and sleep soundly.
Exercise – Moving will be a key component to your detox. Tune into to what kind of exercise feels appropriate, rather than just doing what you usually do or what you think you should do. Walking, yoga, swimming, tai chi, hiking, biking, and strength training are all great ways to get moving. A powerful exercise for removing toxins is using a mini-trampoline or rebounder to help enhance you lymphatic system. This is called Lymphasizing, see the end of this document for more details.
Fiber – Getting additional fiber as we detox is vital to supporting the colon in its role of toxin elimination. In addition to lots of fresh vegetables, ground flax seeds and chia seeds are recommended. You should be eliminating at least 2 times per day.
Castor oil packs – This can be a self-administered and inexpensive way to nurture and support the liver while you detox. . It is incredibly healing and relaxing. Castor oil is said to be able to penetrate deeply – as much as 4 inches – into the body. These packs can be used to stimulate and detox the liver and gall bladder.
Directions:
You will need 100% pure, cold-pressed castor oil, an old T-shirt, and a hot water bottle (or heating pad).
• Put on an old T-shirt, so you don't get the oil on your nice clothing.